My first link up...thanks to
Confessions from a Working mom
!
It's a goody too, and favorite pastime around this house...you guessed it TV shows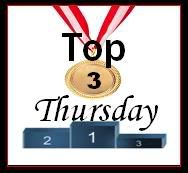 1st place



Nip Tuck


Plastic surgery, sex, bizarre storylines, so-so looking doctors...the dark craziness of this one hour show on FX keeps me coming back for more... season 7 is underway. First episode results in the docs fixing a man who bites off his own lips..come on, that is some crazy schtuff!



2nd plac

e


Weeds

Suburban soccer mom who sells dope...and that was the first season. She's now married to a cocaine dealer who happens to be the Mayor of Tijuana.
HBO - Sunday nights, catch it!



3rd place


Californication

This show may very well have sent Mr. Mulder into sex rehab...the show is FULL of sex...hence why it's on Showtime and not regular ole TV. It does have a great storyline, Hank Moody a troubled novelist....good enough for me!



Spill the beans, what are your top 3 shows?